Today I was working from home, so I dressed for comfort, and what could be easier or more comfortable than a maxi dress?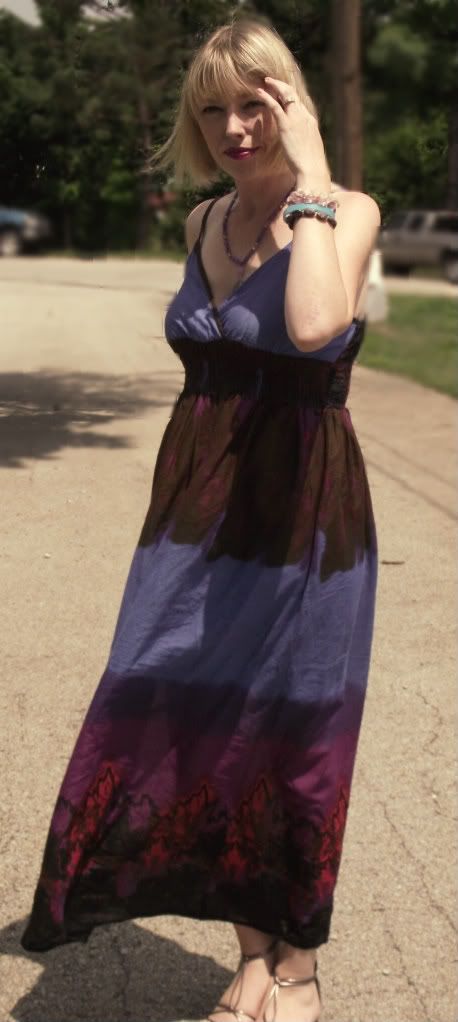 I still love the great color combination of this dress!

Dress:Pink Apple (
remix
)/Shoes:Target/Necklace:Made for me by oldest daughter, Savannah/Purple Beaded Bracelets:B.Moss/Blue Respect Bracelet: Special Olympics-
Spread The Word To End The Word/
Watch:Eddie Bauer
Meanwhile...Our Husky, Boomer was outside while we did pictures today, not to be outdone he said he loved me and asked if he could be in some pics. No, I'm not in need of medication, my dog speaks...kinda. He does this great "talking" like thing, and when we are lucky it sounds like he says "I love you!" It's the cutest! He is so fabulous and one of a kind. You can't see it in this picture but he has one blue eye and one brown...and oh yeah, he only has three legs. No, he didn't lose one in an industrial accident, he was born with a "stump" instead of a leg in back. Don't worry, he gets around just fine. When we go for a walk he drags me as if he's "mushing" through our neighborhood! He was born exactly as he was meant to be, with three legs. Just like the rest of us were born exactly as we were meant to be...fabulous!