Megan over at
Feathers and Freckles
has started a challenge for herself and all of us (Should we choose to accept the mission-hehe). Over the next two weeks, the goal is to pick 10 items from our closets that we either avoid or have never worn. We should wear at least one of these 10 items once a day for 2 weeks and make a final decision on whether or not to toss said item.
Everyone who knows me says I have too many clothes. (No mom, I don't...really I NEED all of them!) I keep things forever, accumulate more and never seem to toss anything. There are items that I just avoid or don't know what to do with, so this is a great opportunity for me to make some space for new stuff to breath. But I want your help. I'd like you to tell me what you think, I'll never make final decisions on my own and I'll still have tons of things that I don't know what to do with!
So, here goes. Item #1, this blouse from Ruche.
I bought it last winter with a dress they had it paired with in a lookbook. I was totally unoriginal and wore it the way they had styled it, and now I don't know what else to do with it. Today I tried with a skirt. I pull it out a lot and then decide I don't think it will look right with the items I've picked. (Styling suggestions welcome!)
Blouse and Belt:Ruche/Skirt:JCPenney/Shoes, Necklace and Bangles:Target/Charm Bracelet:Lia Sophia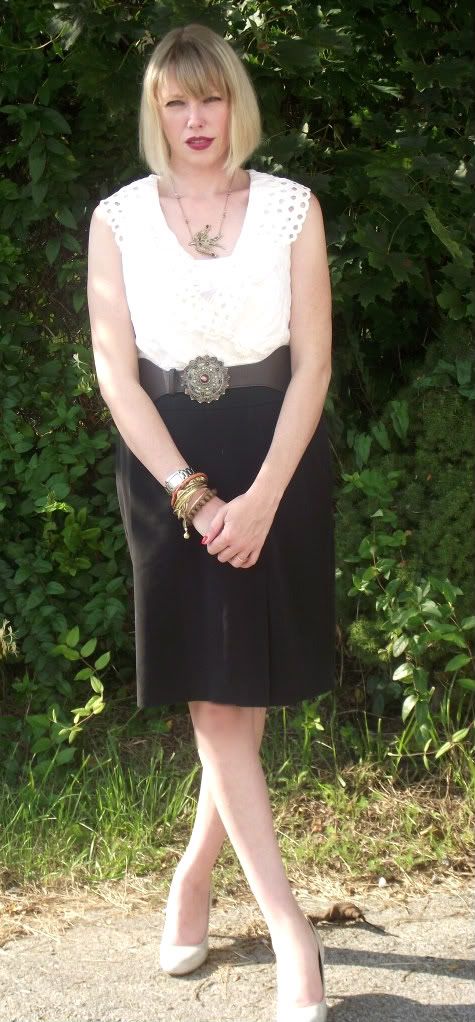 Wow, maybe if I smiled? LOL so, what do you think it? Keep it, donate it or styling thoughts?